After the full day of jetlag recovery, it was only fitting that we should start the day with a rehearsal. A hotel breakfast later, some grabbed the spare time to amble in nearby markets, finding a fruits, souvenirs.
We all assembled in the lobby at 10am and all headed to the Management of New Arts building: we were to rehearse in the same Steinway piano shop that Lite had rehearsed in the previous day! We assembled, ready to start singing, and learned new Korean repertoire along with Korean pronunciation.
It was good to get back at singing, but the lack of sleep and practice certainly made a few feel a little rusty at first (at least that's how I felt). A lightning lunch or snack served as break, and finished the 4 hour rehearsal, only to be told by our tour manager, Jay Mueller, that our Alum for the '93 tour to Asia, Albert Ting, had invited us all to dinner and Karaoke that evening in our hotel: what a wonderful surprise!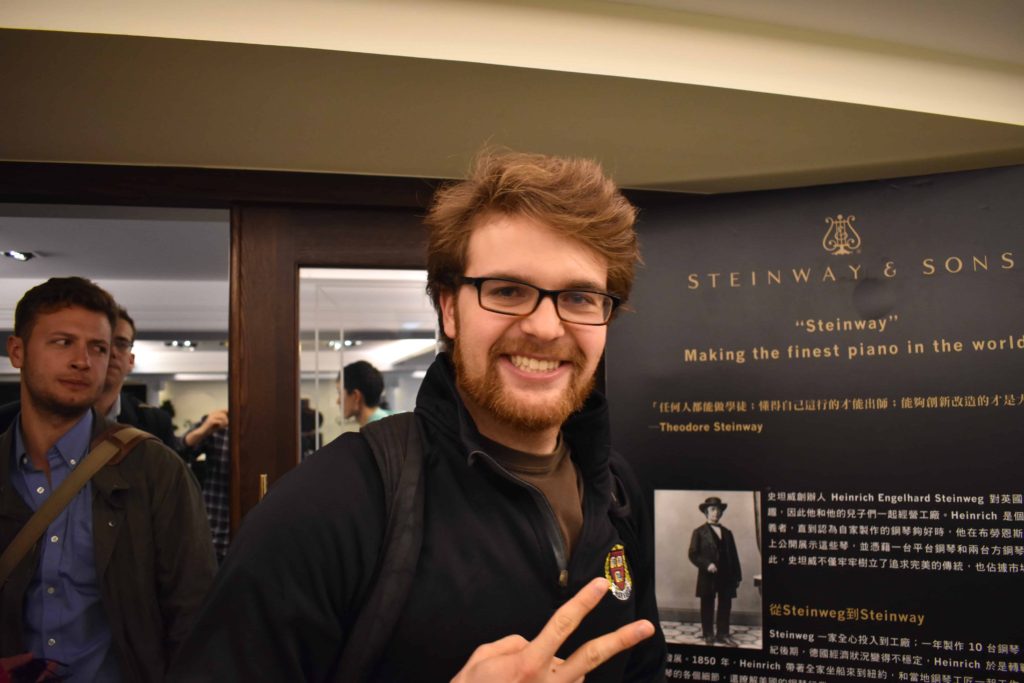 Soon after our return to the hotel, we changed into fancier clothes and went to the second floor of the hotel, where a incredibly fancy room and meal awaited us. We feasted upon a selection of varied taiwanese dishes including noodles, vegetables, and very good duck meat.
During the night, people started singing Karaoke songs, starting with a hilarious rendition of "Beat it" and "Jingle Bell Rock", followed by an Oliver's impressive performance of Frank Sinatra's "New York" which he re-dubbed "Taipei, Taiwan." By the end of the night, all were full on extroverts on Karaoke stage.
Author: Jeffery Durand