After a memorable (or maybe not so memorable for some) night at Party World karaoke in Taipei, it was time to head out for the next city on our trip — Seoul, South Korea. After a smooth check-in process at the Taoyuan International Airport, we were all set to board our Air Korea flight to Incheon International Airport. Aboard this flight we had our first experience with Korean hospitality – although the flight was short, the flight attendants took very good care of us. I was impressed by the frequency with which we were offered food and drink, as well as the fluency of the flight attendants in English, Chinese, and Korean. Our trip concluded with pleasantly short wait times for customs and baggage claim at the airport in Seoul.
On the way to our accommodations in Korea, it became obvious how cold it was outside as the glass began to fog up on the interior of the bus. Though this blocked our view of the landscape, it provided an opportunity for some to begin planning for tomorrow's workshops at the Korean International School, and for others to rest. We took some time to rest at a Korean barbeque restaurant on the way – this was to be our first meal in Korea. I was with the group that was given floor mats to sit on, but one could immediately notice that the floor mats were heated from underneath – how nice is it to be able to sit on the floor without being cold!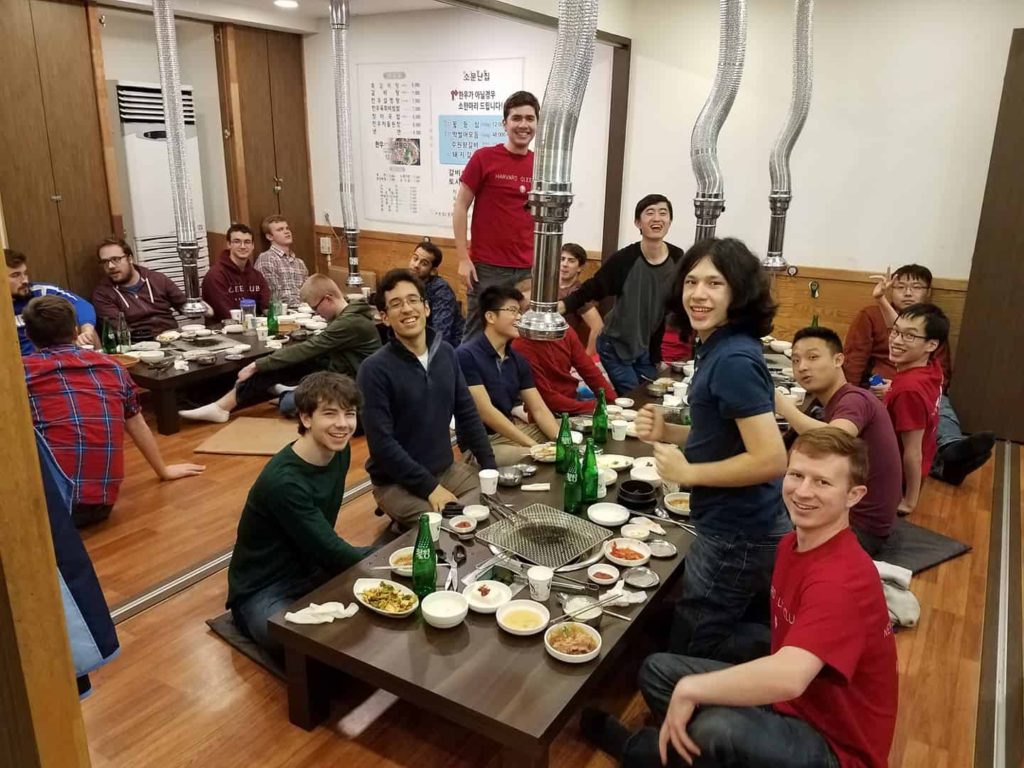 We were given sheets of meat to cook and cut ourselves (though we were aided by the waiter); served with an assortment of condiments and side dishes, the delicious meat was aggressively seasoned and definitely the highlight of the dinner, eaten alone or in a lettuce wrap (I was told that the vegetarians enjoyed their meal too). The servers at the restaurant were attentive and accommodating of the obvious language barrier; however, it soon surfaced that a number of the servers were Chinese-Korean and spoke fluent Chinese, and some fun conversation followed.
Soon after we re-boarded the bus, we arrived at the Korean International School and were shown our accommodations. The majority of us were to be housed in spacious four-person dormitory rooms' bunk beds. Though more modest than our Taipei accommodations, these rooms will certainly allow us a comfortable stay in Seoul; however, we noticed a few interesting quirks as soon as we arrived. First, the floor was again heated! This made going barefoot in the bedroom quite comfortable, making it easy for us to respect this aspect of Korean etiquette. Second, Wi-Fi was not available in the bedrooms! This forces students to congregate in common areas for web access, promoting the social scene at the school in a manner both clever and astounding. That night, we engaged in various activities, including planning for the next day's workshops with the Korean International School students, an outing to Gangnam, a poker night, and a Sherlock (the TV series) watching party.
Overall, a fantastic first day in Korea.
Author: Jimmy Jiang